Avere (to have) is the second most used auxiliary (or helping) verb of the Italian grammar, just after essere (to be).
In this article we have highlighted the most common conjugations of the verb avere, so you can quickly learn how to use it. Thus, when you feel you can now master this verb, you will be able to study also its compound tenses.
What you need to know about the verb avere
For example:
Just as essere, avere is an irregular verb, so it does not follow the -ere ver bending pattern.
It is a transitive verb, therefore, always followed by a direct object.
The most used conjugations of the verb avere
Nominal forms

Indicativo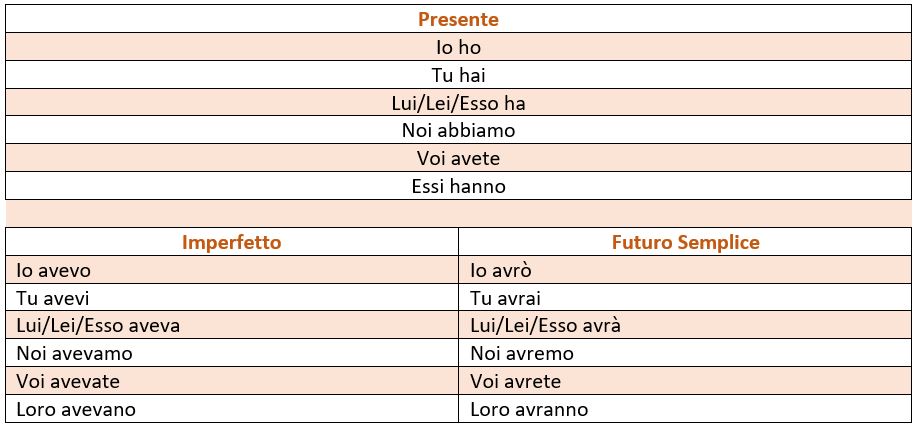 For example:
Io ho un cane nero (I have a black dog – indicativo)
Tu avevi promesso! (You promised! – imperfetto)
Voi avrete sempre ragione (You will always be right – futuro semplcie)

For example:
Penso tu abbia un buon lavoro (I believe you have a good job – congiuntivo)
Vorrei un gelato alla fragola (I would like to have a strawberry ice cream – condizionale)
"One of the most important areas we can develop as professionals is competence in accessing and sharing knowledge"
To learn more about Italian language, ENROLL NOW to our Italian Course
How to use the verb avere
While in English we used "to have" to define only the possession of something, in Italian this verb can be used to describe different situations.
For example:
To own
To obtain
To hold
To wear
To receive
In particular, when using avere to describe possession, it is important to distinguish two different situations.
1. Possessing something literally
For example:
Ho una casa molto grande (I have a very big house)
Quell'uomo possiede un'auto costosa (That man owns an expensive car)
2. Possessing something in a figurative way
For example:
Ho 20 anni (I am 20 years old)
Hai fame? (Are you hungry?)
Mia moglie ha sempre fretta (My wife is always in a hurry)
Non preoccuparti, non abbiamo bisogno di te (Don't worry, we do not need you)
Avete freddo? (Are you cold?)
Ho caldo! (I'm hot!)
Study tip! Some verbs may be used with both auxiliary verbs, essere and avere!
For example:
Sono stato molto fortunato (I have been very lucky – essere)
Ho avuto molta fortuna (I got very lucky – avere)
To know more about the compound tense of avere, CLICK HERE!
Get your FREE Italian Audio Course
"TOP 20 ITALIAN VERBS" (MP3 + PDF)