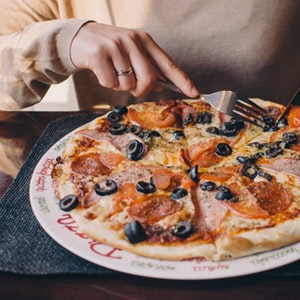 When you visit Italy, going to a restaurant is one of the first things you must do! It's only way to live a proper Italian experience. To understand why food is a crucial part of the culture of this country. However, it is important to have some key Italian skills for ordering correctly (and politely!).
After reading and studying this article, you will definitely be able to feast like a local! Do not forget to use three magic words that will help you in every situation: Buongiorno (Good morning), Per favore (Please) and Grazie (Thank you)!
Study tip:
Before anything else, it may be a good idea to check out our article about Italian food. In this way, it will be easier to read and understand the menu of every Italian restaurant!
At the restaurant: Vocabulary





"One of the most important areas we can develop as professionals is competence in accessing and sharing knowledge"
To learn more about Italian language, ENROLL NOW to our Italian Course
At the restaurant: Dialogues and Common phrases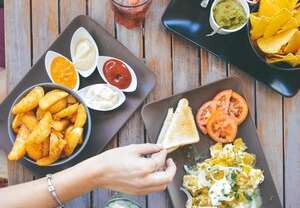 In Italy, you just choose the table yourself, without being seated by the waiter or waitress. The menu would be already displayed on the table.
Otherwise, the waiter will soon bring it over to you. This is why you should always be ready to communicate with your waiter or waitress!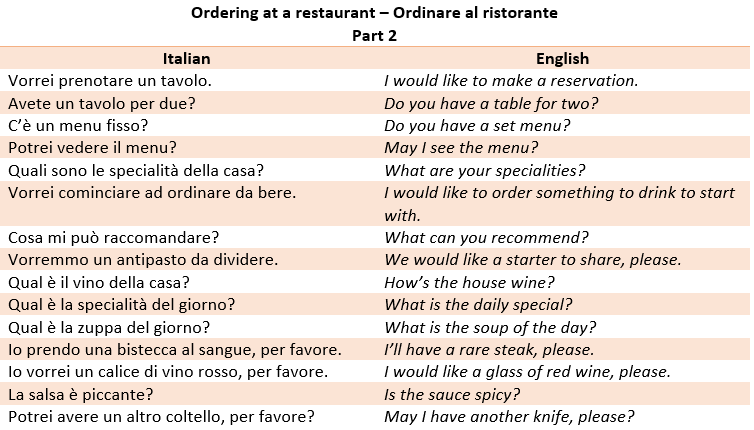 5 Things to Know about Italian Dining Culture
Visiting Italy is your chance to get to know Italian food. And one of the most famous dining cultures around the world. You will soon understand that sharing a dinner table with Italians is quite an experience. Thus, there are still some things you may need to know before being ready to eat out in Italy!
Italians tend to eat dinner later than other people around Europe.

If you are used to having dinner before 6 pm, you will struggle to find a place to enjoy your meal. Italian restaurants typically open for lunch from 12 pm, and they are ready to serve dinner from 7pm. Things are changing in several cities that are now hosting thousands of tourists from all around the world. Still, if you want to enjoy your meal surrounded by Italians, you better wait until it's late!

Italians menu can be confusing.

This is because a typical Italian meal involves several courses: appetisers, pasta, meat, sides, desserts, and also some liqueurs at the end (usually called "digestivi"). Fancier restaurants may even divide their menus into different sections such as Terra (land, for meat-based dishes) and Mare (sea, for fish-based dishes). It is not uncommon to find also some hand-written paper insert into your menu with daily specials. How to survive to an Italian meal? Do not worry about calories and getting fat: just enjoy your food and your company.

Italians restaurants do not have any "kids menu".

Pizza and pasta are already some good kid-friendly meals! However, you can always try to ask for "mezza porzione", which means "half portion", a smaller dish.

Never eat too fast!

Sometimes, Italian lunches can last several hours, and then you only have a couple of hours of break before dinner. Usually, restaurants all around the world are concerned about turning over tables. However, in Italy, if you leave your table sooner than expected, the waiter or the manager will ask you if you didn't enjoy your meal!

Splitting the bill? No, thanks!

Traditional Italian restaurants are not prepared to accommodate this kind of requests. Although some more touristy places might be ready for complicated bill-splitting. Even if you are able to pay for your meal without any of your Italian friends just sneaking up to pay for everyone before you may ever know it. Be prepared to pay in cash: in Italy, fees for charging credit cards are very high, and smaller restaurants just prefer to accept cash payments.
Get your FREE Italian Audio Course
"TOP 20 ITALIAN VERBS" (MP3 + PDF)