What is an Italian filler word?
In linguistics, fillers are words or sounds that are prevalently used in spoken conversations. They are used by the person who is speaking to signal to others that he or she needs a pause. They are thus a way to indicate that you have not finished speaking yet, but you may need a few seconds to reorganise your thoughts.
Each language has its own fillers. Like any other parts of the spoken language, filler words tend to evolve and change time by time. Consequently, it is impossible to list all the currently existing fillers. On the other hand, they are usually not taught in grammar books. The best way to learn them is to use them as a regular part of your conversations, while you practise the language. Another good idea is to focus on how native speakers use fillers and, if necessary, to ask them to explain their usage.
Italian is indeed a beautiful language, with words of any kind. It is thus not surprising if Italians often used some filler words. They are undoubtedly an essential key to master Italian, and soon you may find yourself using Italian filler words without knowing it!
Why it is important to use filler words in Italian?
There are a few grammar books that will teach you about Italian filler words. However, they are one of the most critical parts of each spoken conversation.
If you are wondering why you should use Italian filler words, we can give you three essential reasons:
1. To sound more natural
If you are learning a foreign language, your goal is to master it at the point that people will not believe you are not a native speaker. While you need perseverance and patient to learn Italian grammar and vocabulary, it is only by using filler words that you will genuinely and immediately sound natural. In other words, they make learning and speaking Italian real.
2. They can help you understand the context of a conversation.
Having a proper conversation with a native Italian speaker is undoubtedly more difficult than studying the language through books. Italian is particularly rich in words that, although they are supposed to be synonyms, can have different meanings depending on the context.
By using and understanding filler words, you can easily have a grasp of the context of every conversation.
3. They give you time to organise your thought
If you are still trying to improve your Italian vocabulary, you may need some time to find the best words to use. On the other hand, you don't want your Italian friends to believe that you are still not confident enough in your speaking skills. By using filler words, you can have time to express yourself properly, and you will even look like someone who really knows how to use the language!
What are the Italian filler words?
We can divide Italian filler words into three different categories, based on their position within a conversation.
Starters (Iniziatori)
As the name suggests, these filler words are used to start a sentence or a conversation, and they are followed by a comma. They come in handy when the speaker cannot provide an immediate answer to something that he has been asked, or to start a conversation and to introduce a new topic.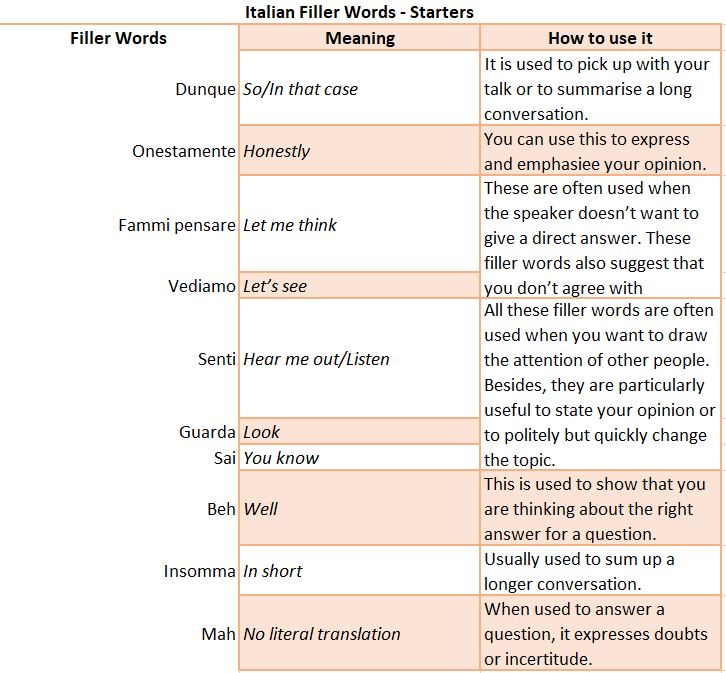 For example:
Beh, cosa facciamo domani? (So, what are we doing tomorrow?)
Fammi pensare… potremmo andare in spiaggia. (Let me think… we may go to the beach.)
Sai, preferirei restare in città. (You know, I'd rather stay in town.)
Mah, come preferisci. Senti, allora andiamo a giocare a calcio. (Meh, as you prefer. Listen, let's go play football instead.)
Onestamente, mi sembra proprio una buona idea! (Honestly, I think it's a beautiful idea!)
Dunque, ci vediamo domani. (So, I'll see you tomorrow.)
Medians (Mediani)
As you may have guessed, medians are usually found in the middle of a conversation. They thus come in handy when you cannot find the right word to use or the proper thing to say next.
Since there is not proper grammar rule to follow when using filler words, you can hear your Italian friends using medians at the beginning or at the end of a sentence as well.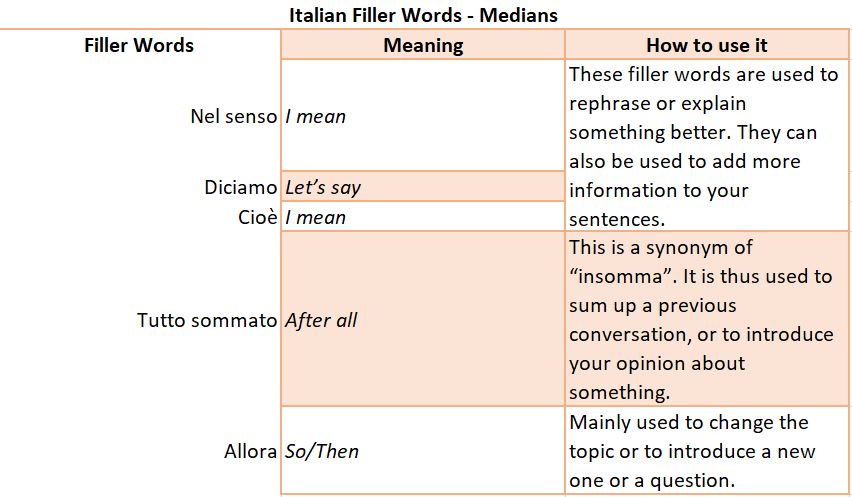 For example:
Non mi va di venire al ristorante. Diciamo che non ho molta fame. (I don't want to go to the restaurant. I mean, I'm not hungry.)
Sono preoccupato. Nel senso, non so cosa fare. (I'm worried. I mean, I don't know what to do.)
Siamo andati a Firenze. Tutto sommato, ci siamo divertiti. (We went to Florence. After all, we had fun.)
Abbiamo preso un caffè insieme. Allora, le ho chiesto il suo numero. (We had a coffee together. Then, I asked for her number.)
Allora, andiamo dal dottore? (So, shall we go to the doctor?)
Finalizzatori (Finalizers)
There is always a reason to use filler words. Even at the end of a sentence or of a conversation, you may wish to emphasise your ideas.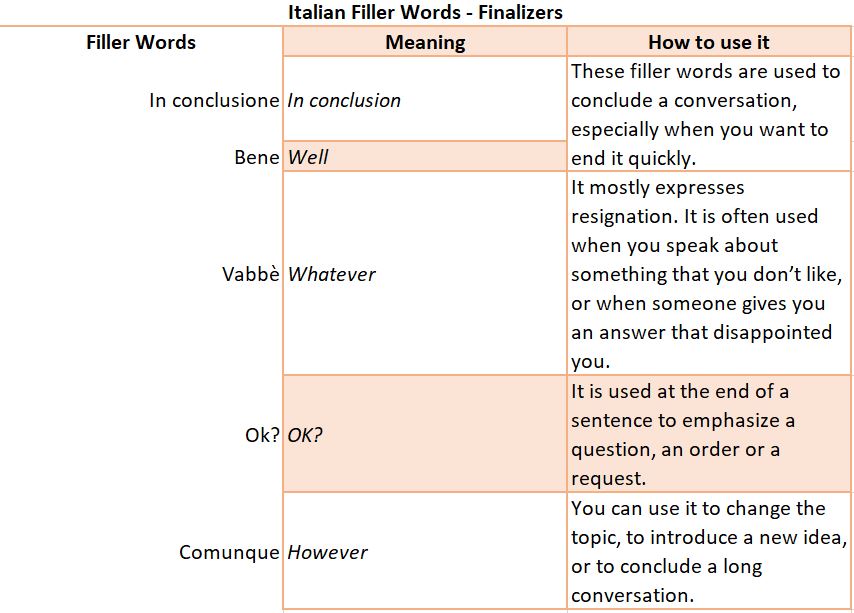 For example:
In conclusione, vorrei ringraziare tutti i miei amici. (In conclusion, I'd like to thank all my friends.)
Bene, penso andrò a casa. (Well, I think I'll go home.)
Non puoi aiutarmi? Vabbè, non preoccuparti. (You cannot help me? Whatever, don't worry about it.)
Adesso lavati le mani e fai i compiti, ok? (Now, go wash your hands and do your homework, OK?)
Comunque, è stata una bella serata. (However, it was a great night.)
"One of the most important areas we can develop as professionals is competence in accessing and sharing knowledge"
To learn more about Italian language, ENROLL NOW to our Italian Course