Just like Italian filler words, exclamations are an essential part of spoken languages. They are used to express a wide range of emotions, from happiness to disappointment. They often emphasise an idea or an opinion. Most importantly, sometimes, a simple word can summarise a whole concept or conversation.
If you have some Italian friends, you may be already familiar with these exclamations.  You can only say you master this language when you start using them.
Are you ready to become a real Italian and learn how to express your ideas in less than a few letters?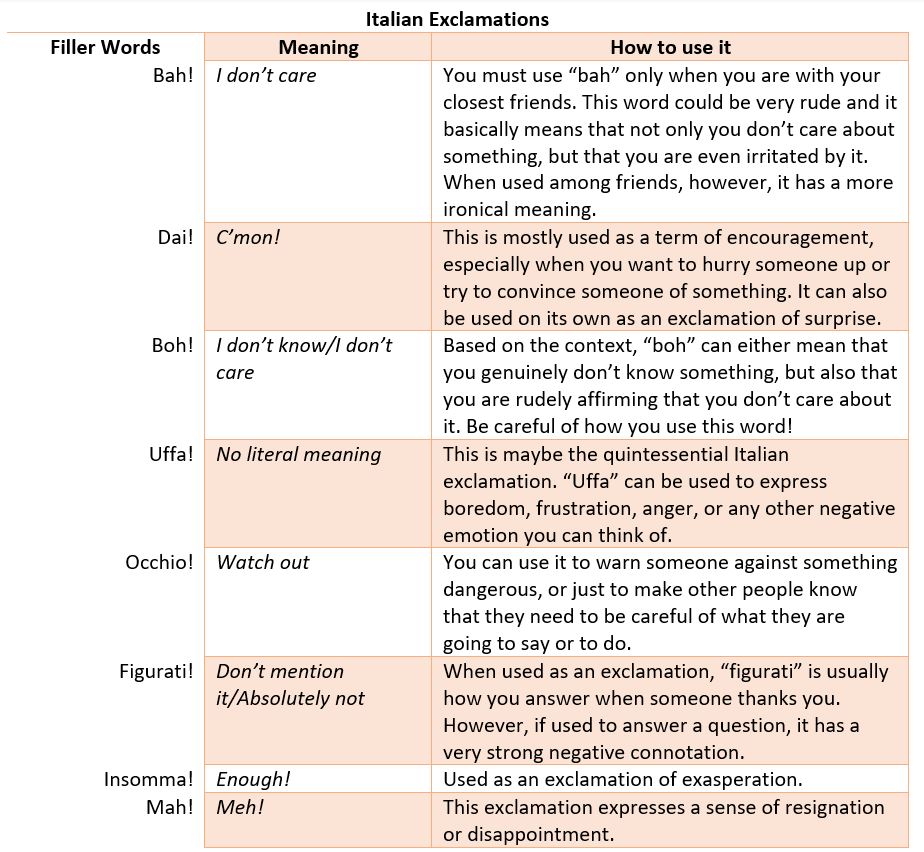 Let's have a look at some examples!
Non sei ancora pronto? Dai! (You're not done yet? C'mon!)
"Cosa dovremmo fare questa sera?" "Boh!" (What should we do tonight?" "Boh!")
"Non abbiamo ancora finito. Torneremo a casa fra 40 minuti." "Uffa!" ("We're not done yet. We'll go home in 40 minutes." "Uffa!")
"Allora, pensi che la tua squadra vincerà la partita?" "Figurati!" ("So, do you think your team is going to win this match?" "Absolutely not!")
"Dunque, cosa ne pensi di questo problema?" "Bah!" ("So, what do you think about this issue?" "Meh!")
"One of the most important areas we can develop as professionals is competence in accessing and sharing knowledge"
To learn more about Italian language, ENROLL NOW to our Italian Course